To all members, visitors, and friends of Yuku,
May you and your loved ones enjoy a wonderful Holiday season, and may the New Year bring generous gifts of happiness and good health to all.
A Year In Review
Before crossing the 2013 threshold, we want to take a moment to reflect upon an exciting year at Yuku by looking back at twelve months of bug fixes, active development of new features, and major server upgrades.
During 2012, we released two mobile apps, multi-level forums, bulk moderation options, and completed the move from Amazon hosting services to our own Crowdgather Network Operating Center. These were major accomplishments in our endeavor to serve you and all of the Yuku communities better. We hope you've also enjoyed the release of other features such as more time display options, a new, easier youtube video embed method, and the option to include or exclude hidden posts from total post count. The improvements have not been limited to what you see and experience while browsing the communities. Our engineers have also spent time and resources to protect your communities against excessive spamming. Three different tools have been developed to help us detect and eliminate spammers as quickly as possible.
2013 - A Look Into The Future
We are in the process of developing a number of exciting new features. Some of these are nearly ready for release, and we're happy now to give you a glimpse of what is coming!
New post editor
A beta version of our new post editor will be released shortly. The new editor will include many new features, and for the many grid game players among you, the editor enables you to make your game grids right inside your new posts. There is no need to use the game table generator. It's as easy as selecting how many cells you wish to use.
New chat rooms
Knowing that chat is very popular at the Yuku communities, we are aware that you're in need of a better chat room. Sit tight, it's under development and coming soon!
* A screen shot of our new chat rooms will be added in the next day, please check back.
New user interface
The new user interface (new UI) was introduced back in July and is already being used at some communities. The limited use of this new UI has allowed us to collect feedback from members, and we continue to improve and develop the new UI to keep our users happy. One key addition will be significantly improved customization. Stay tuned for further announcements on the new UI.
New admin user interface
We are working on a new admin user interface. The interface is clean, it's easy, and the new dashboard will make you wonder how you ever got by without it.
Easy drag and drop forum management
Upon request of many, drag and drop forum management will return. It's not going to be the same as before. It's going to be so much better!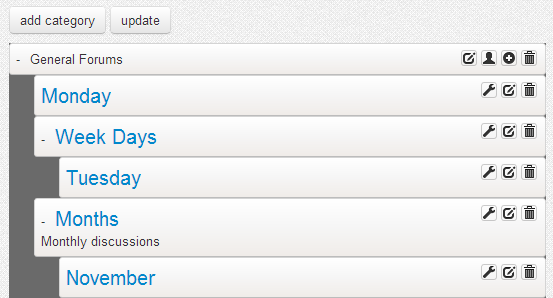 We look forward to the coming year during which we intend to keep improving Yuku for you and with you; that said, please feel free to continue providing us with feedback and input about how to enhance Yuku going forward.
Thanks for using Yuku and Happy Holidays!
Yuku Team