Hehe,agora que comecei a jogar SOGE,comecei a pesquisar sobre os mods.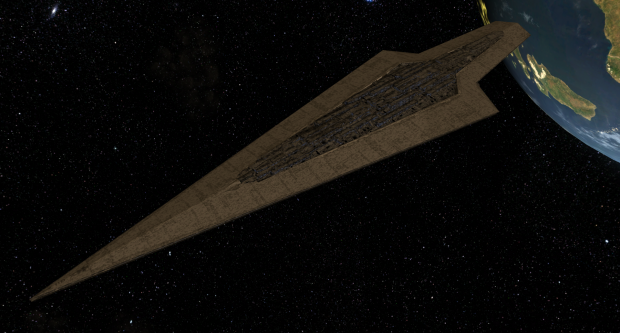 E a galera que fez o SOGE está fazendo para uma versão do mod para o Rebellion.
O mod está em fase alpha,e ,por causa disso,tem alguns bugs.
Mas é jogável.
A novidade fica por conta dos Vongs,que foram incluidos nessa versão.
O texto original:
Hello and welcome to the first release of Sins of a Galactic Empire for Sins of a Solar Empire: Rebellion! This version of the mod is currently in alpha, so there are some things missing, other things broken, though on the whole it runs fairly smoothly. There are some known issues with it:
-Abilities have a maximum of 2 levels, down from 3. This is a temporary thing, and was done in order to speed up the release of this alpha
-Titans (supercaps) currently have no abilities, this will be fixed in the future
-All maps are broken except for the Small Random map; Lavo, Ludo, and others are currently working on converting maps for use in SoGE in Rebellion
-Flagship victory doesn't work
-Research and Diplomatic victories will not work well
-Occupation victory is borked as the planet spawns without a militia, this is being worked on
If you ever experience a minidump, do the following:
1) Reload your latest autosave, continue as before the dump occured, to see if it happens again.
2) If it happens again, send in your latest autosave and tell us what factions you were using. Do not send the minidump log/report; we can't get any use out of it.
As with the beta of Entrenchment, SoGE uses stackable minimods.
To activate the mod, open the EnabledMods.txt file present in the aformented folder and edit in the mod like so (this includes all races, like file included in this rar; make sure to leave a blank space at the bottom of the txt file):
TXT
Version 0
enabledModNameCount 6
enabledModName "SoGE Beta Ent - Alliance"
enabledModName "SoGE Beta Ent - CIS"
enabledModName "SoGE Beta Ent - New Republic"
enabledModName "SoGE Beta Ent - Republic"
enabledModName "SoGE Beta Ent - Vong"
enabledModName "SoGE Beta Ent - CORE"
In order to reduce RAM, it's recommend to remove the modules/mini-mods that you aren't using, and update the enabledModNameCount accordingly. For example, if you're playing a game with the Empire, Alliance, and New Republic, you don't need to load up the CIS', Republic's, Vong's assets. It doesn't matter what order you load the mods in, as long as the CORE is on the bottom of the list.
Saiu um UPDATE do REBELLION
http://thepiratebay.se/to...on.Update.v1.03-RELOADED
LINKS
Link do game Sins of the Solar Empire REBELLION , para você testar e depois comprar o original(diga não a pirataria
)
GAME http://thepiratebay.se/torrent/7349270/
UPDATE 1,03
http://thepiratebay.se/to...on.Update.v1.03-RELOADED
acompanha um manual do GAME
COMO INSTALAR.
Copiar todos os arquivos da pasta que você "baixou" e sobrepor os originais , instalados geralmente na pasta C:\Program Files (x86)\Sins of a Solar Empire Rebellion. Pronto é só jogar.
___________________________________________________________
Links do MOD SOGE para o REBELLION, EM QUATRO (4) PARTES

Update do SOGE Rebellion:
Cumulative patch for SoGE's Rebellion Alpha. Fixes a number of things, such as particles (thanks to the new PipelineEffects) and supercaps. Download it here.
Installation: Extract to your ...Documents\My Games\Ironclad Games\Sins of a Solar Empire Rebellion\Mods-Rebellion v1.03 folder and overwrite when prompted.
Known Bugs:
-Not all supercaps have proper upgrade menu icons, even if the abilities work.
-Some supercap abilities may not be upgrading properly. This is being worked on; will be fixed soon.
-Republic VSD2 does not have the new VSD skin yet.
-Republic Vindicator has had a mesh change, but has not had it's strings/icons/shield mesh updated
-Some of the new maps do not have great starting positions/need changes, this is being worked on.
Link:
http://www.mediafire.com/?y42s2zbz4tortk2